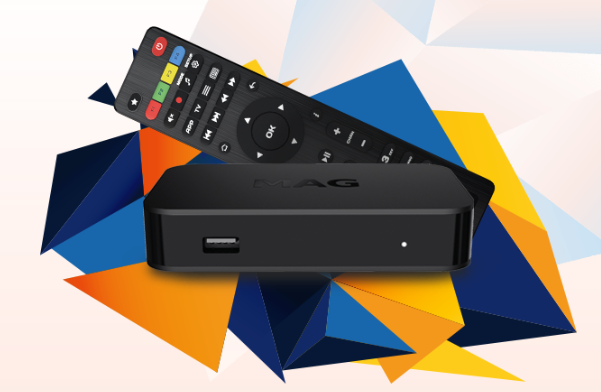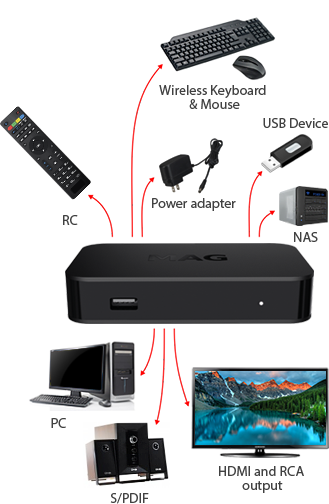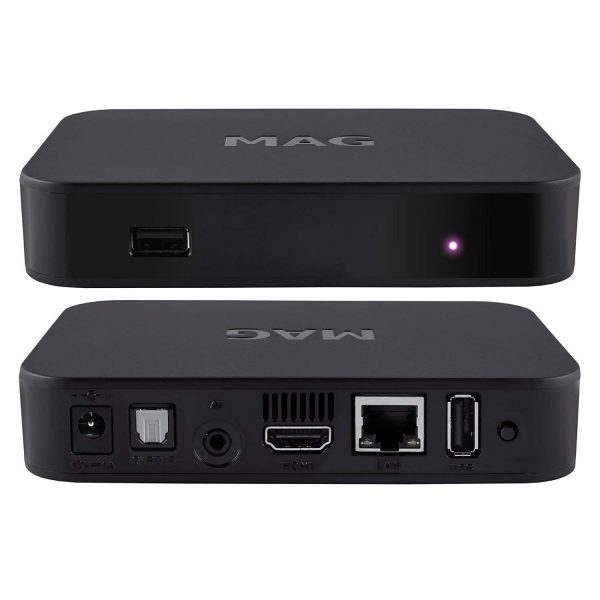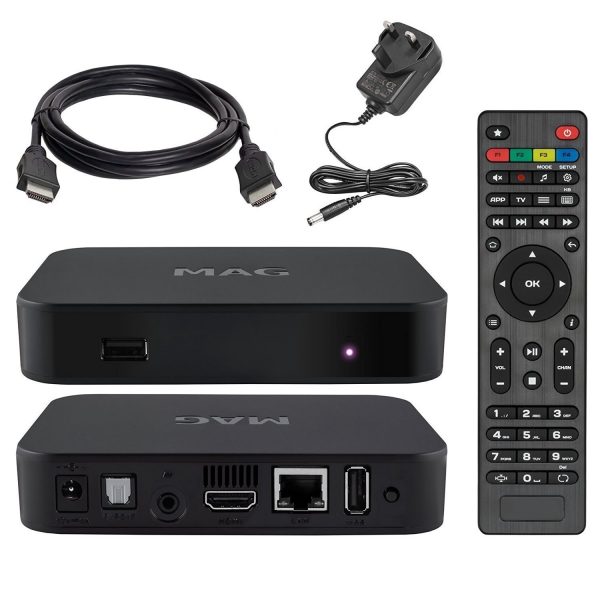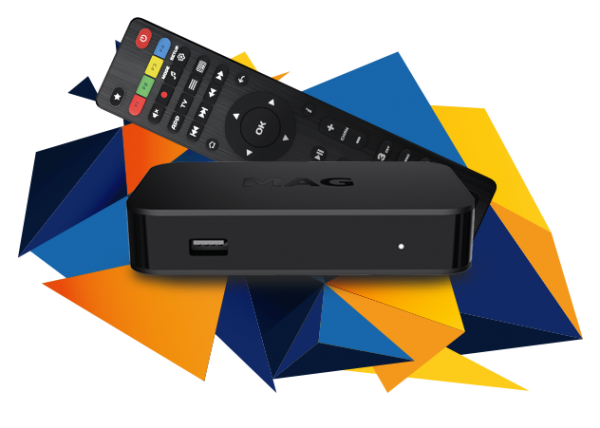 MAG 322 IPTV
€100.00
The MAG322 is your optimal Set-Top Box solution.The device is targeted for Internet providers, content aggregators and
system integrators and is used for launching interactive TV services delivered over IP based networks (IPTV/VoD/ОТТ).
The MAG 322 can be used as an IPTV box that can be connected to your TV. Provides access to web services such a YouTube, Picasa, Online Cinemas & Weather Forecast. Browse the web from your living room using the built-in web browser.
Opis
Recenzije (0)
Specifications
Video
Opis
The MAG 322 can stream content over your local network. Access IPTV streams over the internet. Play content from USB storage devices. Requires a Wifi Dongle for Wifi Connectivity.
Main Features:
HEVC support
The set-top box plays the HEVC-compressed files.
This means the network load will be lower, even when delivering high-quality content.
3D video support
The set-top box plays advanced 2D and 3D graphics with OpenGL ES 2.0 support.
High-performance
Modern high-performance processor on the chipset BCM75839 and 512MB RAM is good enough to playback the high-quality video.
High quality of sound and image
The audio output S/PDIF allows connecting the multichannel High-End system to the set-top box.
HDMI 1.4b provides the highest quality of sound and image.
Dimensions:
Width/depth/height, (mm) 132 / 87 / 26
Weight: 144g
Hardware:
Processor BCM75839, MIPS 4KE Dual Core CPU 750Mhz
Flash memory 512 MB
RAM 512 МB
Performance 2000 DMIPS
Software:
Operating system Linux 3.3
Built-in Media Portal with WebKit-based IPTV-functionality, HTTP 1.1, HTML 4.01 XHTML 1.0/1.1; DOM 1, 2, 3, CSS 1, 2, 3; XML 1.0, XSLT 1.0, XPath 1.0 ; SOAP 1.1; JavaScript ECMA-262, revision 5; Media JavaScript API; C layer SDK
DRM option Secure Media
Middleware supported Ministra multiscreen TV platform
Interfaces:
Audio output S/PDIF, HDMI 1.4-output, Composite + stereo A/V output, Ethernet 100 Mb/s, USB 2.0 (WiFi-adapter can be connected)
Sources of media content:
PC and NAS in local network, Stream media protocols (RTSP,RTP, UDP, IGMP, HTTP), USB-devices
Audio & Video:
Audio сodecs MPEG-1 layer I/II, MPEG-2 layer II, MPEG-2 layer III (mp3), Dolby Digital (optional), DTS (optional)
Audio formats MP3, MPA, M4A, WMA (optional), Ogg, WAV
Video modes 1080i, 1080p, 720p, 576p, 480р, PAL, NTSC Video сodecs MPEG-1/2, MPEG-4, H.264/AVC HP@L4.2, WMV9, H.265/HEVC Main and Main10 profile up to 1080p at 60 fps, XviD, 3D video support
Video containers MKV, MPEG-TS, MPEG-PS, M2TS, VOB, AVI, MOV, MP4, ASF, QT, WMV
Image formats JPEG, PNG, BMP, GIF, RAW
Subtitles DVB, SRT, text MKV
Playlist formats M3U #
Includes:
MAG322 Set-Top Box
User manual
HDMI Cable
Power adapter 12V 1A
Remote Control